Our simple 4-step process will quickly have you matched with the perfect Scale Expert whilst providing access to our unique Membership offering.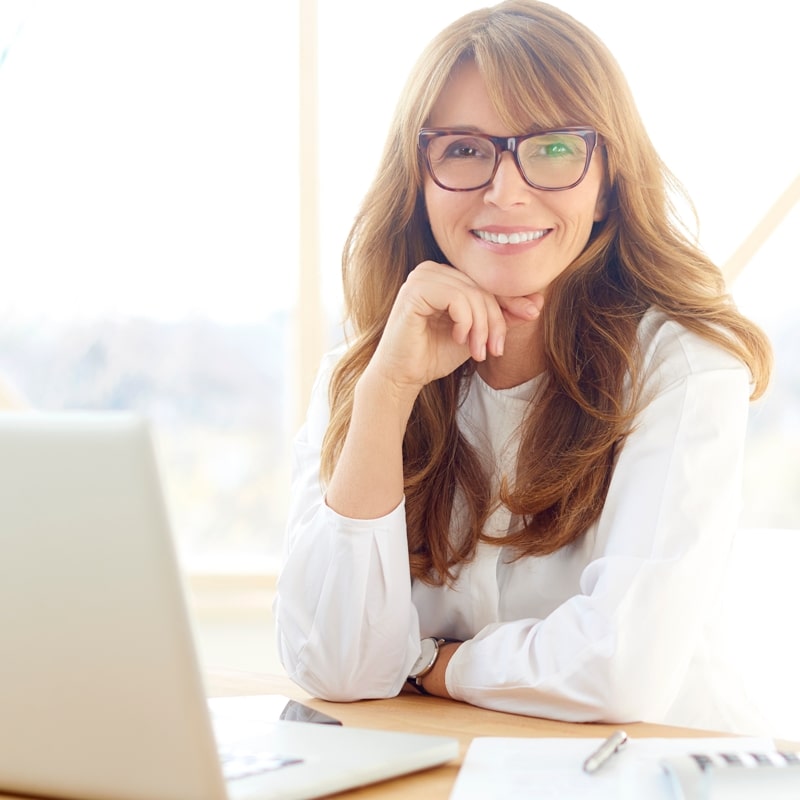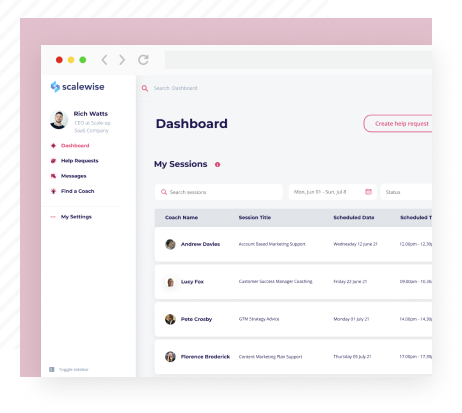 1. Become a Scalewise Member
Scalewise Membership provides access to our platform (coming soon) where you can find your perfect Scale Coach. You'll also benefit from Scale Masterclasses, carefully selected partner offers, networking opportunities and more.
Talk through your biggest scaling challenges with one of our founders. We'll explore your business, culture, goals and needs before recommending the best path forward with Scalewise. We're here as your dedicated Growth Advisors.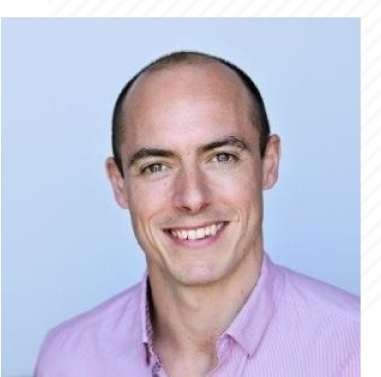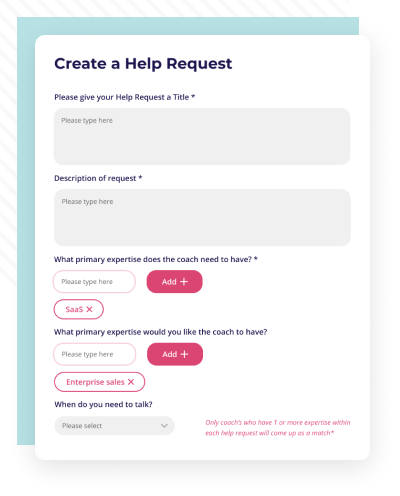 3. Create a help request or search Scale Coaches
The Scalewise Platform's advanced matching algorithm enables you to easily find your perfect Scale Coach from our vast community of revenue leaders. Create 'help requests' or filter by expertise, industry experience, stage of business and more.
4. Select your Coach
& start scaling
Free 'chemistry calls' enable you to select the perfect Scale Coach based on your needs. Once selected, pick from a number of cost-effective monthly subscriptions that provide flexible access to the powerful insights you need to fuel your scaling journey.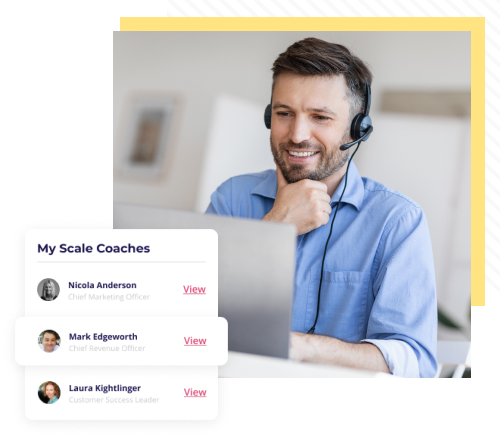 We've made everything as effortless as possible including payments, messaging, invoicing customer support, scale matching and more. But if you need anything, our team is on hand to support you.
Frequently Asked Questions
How much does Scalewise Membership cost?
We're currently offering Scalewise Membership for free to the first 100 scale-ups to apply. By becoming one of our early clients, you'll be able to help shape the future of our Membership offering and gain early access to the Scalewise Platform. Contact us now to apply for Scalewise Membership.
When will the Scalewise Platform be live?
We've been building the Scalewise Platform since April 2020, which we're excited to launch into the wild in early 2022.
A Scale Coach is a seasoned revenue operator who has been through our three-stage screening process to ensure they have the expertise required to support our clients on their scaling journey. They provide powerful insights, offer constructive feedback and love sharing their knowledge. They're often in full-time employment within a scale-up but can provide support on a flexible, hourly basis around their day-jobs. 
Can I access multiple Scale Coaches for me or my team?
Absolutely. Scalewise Membership gives you access to over 100 world-class Scale Coaches and we have clients today who are tapping into the expertise of several Coaches at once. One may be working with their Customer Success Team, another with their marketing leader or sales leader whilst another Coach supports their founder or CEO. 
How many Scale Coaches will I have access to?
We've currently on-boarded over 100 Scale Coaches, most of whom are in the UK or US. However, we continue to onboard around 10 Coaches per month and we're always on the lookout for exceptional revenue operators around the world. As soon as we on-board a new Coach, clients can immediately tap into their expertise via the Scalewise Platform. 
What are the costs for Scale Coaching?
We offer a range of flexible, one-off or subscription packages ranging from £305 per month per coachee to £1,925 (or equivalent USD/EUR) depending on the number of hours required. Hours can be used against multiple Scale Experts if desired.
Are there any discounts available if I want to access Scale Coaching for multiple people in my company?
We're always happy to discuss pricing for clients who are looking to support multiple team members. We've seen first-hand the impact of injecting expertise into multiple individuals or teams and would like to encourage this through preferential pricing.
Is there a minimum contract period?
Although we don't have a minimum contract period, we've found that clients get the most benefit from engaging a Scale Coach for a minimum of 6 months. We can also offer preferential pricing for clients who would like to commit for 12 months or more.
Build a scalable and sustainable growth engine with high-impact Coaching, Fractional & Interim Leaders and Delivery Partners.