With money burning in your pocket post-Series A, it's tempting to start dreaming of that huge IPO or game-changing acquisition, but successfully scaling from Series A to B requires a more modest focus: nailing the five core fundamentals that build a repeatable, scalable system.
Metrics are vital. According to our research report, 94% of founders and revenue leaders believe Series B is impossible with a disregard for metrics. Be it headline performance (i.e. ARR and ACV), sales efficiency (i.e. LTV to CAC) or product-market fit (i.e. NDR), metrics enable scaling companies to prove repeatability to investors.
Metrics also serve as warning signs of stuttering performance and levers for improvement, allowing managers to objectively measure the company's trajectory and identify specific areas that need attention. Founders should therefore focus on metrics as soon as possible after Series A.
"It is a 100% certainty that you will need a metrics-based approach at some point later. So start from day 1 with employee number 1." Neil Weitzman, Scalewise Scale Expert
Systems, processes and tools
Series B is only possible with scalable systems, processes and tools, according to almost two-thirds (63%) of founders and revenue leaders. As such, founders need to wave goodbye to on-the-hoof decision-making at Series A and enter the world of repeatable processes.
From hiring and ramping to learning and development, scaling companies should implement scalable and repeatable infrastructure at every element of the revenue function to ensure they can accurately predict their future outcomes. As a starting point, founders should implement a best-in-class CRM as soon after Series A as possible, followed by revenue operations and RevOps specialists that match the maturity of the business.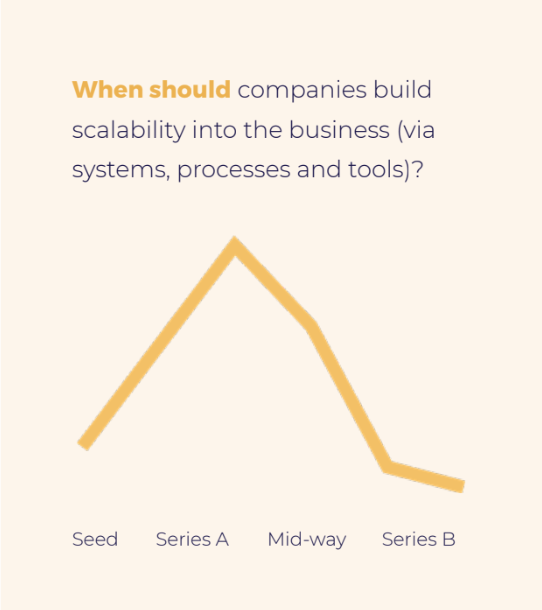 Crossing Series A is like passing the baton in a relay race. In the Seed to A leg, the CEO-Founder carries all the sales, product development and growth with them, but in the A to B leg, the responsibility is passed to a wider team of specialists. To reach Series B successfully, all parts of the team must work together.
This requires effective information flows that help everybody understand their responsibilities, which naturally becomes harder as headcount grows, geography expands and new departments evolve. To avoid silos and promote cross-functional alignment, founders should therefore build process-led information flows and embed positive company culture. For example, everyone should clearly understand what constitutes a qualified lead.
"A metrics-based approach helps to facilitate the efficient flow of critical information because it converts information into an objective, universally understandable and easily transmissible format." Nicola Bucala, Scalewise Scale Expert
Problem solving and diagnosis
Something's gone wrong, what should we do? Between Series A and B, the scaling process is a whirlwind of chaos and pressure; a constant stream of changing responsibilities and new problems.
Although CEO-Founders are able problem-solvers, they often misdiagnose and therefore mis-fix problems due to lack of scaling experience. Instead, CEO-Founders should place greater emphasis on data, benchmarks and external knowledge to ensure a thorough understanding of what's actually gone wrong and needs fixing.
"A very common misdiagnosis is 'if we are not selling something, the sales team must be flawed'… but often it's because the product doesn't fit or your positioning or messaging is wrong or the success/support apparatus is not functioning as it should, or some blend of any or all of these." Ben Miller, Scalewise Scale Expert
Management and leadership
Having led from the front until Series A, CEO-Founders now need to let go of control and shift mentality from a jack-of-all-trades leader to empathetic motivator; from self-confident to data-and-process-confident. 
This is not easy. Many founders have little previous management experience and leading a company through Series A to B requires a willingness to adapt, learn, delegate and support. To make the transition, CEO-Founders should seek coaching and/or external expertise to help their transition.
"Running a company is really, really, really hard even when you've got 20 years of experience. Trying to do it successfully with barely any experience, and if you are not willing to heavily lean on the experience of others, is practically impossible." Paul Fifield, Co-Founder, Sales Impact Academy.
All about the fundamentals
There is no magic bullet to successfully scaling a company through Series A to B, but applying these five core process fundamentals properly will give you the structure and momentum to get there. For more advice on process fundamentals, download our research report: How to get from A to B with the benefit of hindsight.